Items Available at
dralexischesney.square.site
:
- Signed copy of
Preventing Lyme
shipped to you
​-Tick Preparedness Kit shipped to you
​- MP4 recording of
Preventing Lyme
Book Launch Webinar on 4/11/20

​
FULLSCRIPT
Click the Fullscript icon below to set up an account and place an order with my dispensary through Fullscript.
Fullscript carries single Nutramedix products, in addition to other brands. Supplements are shipped directly to you!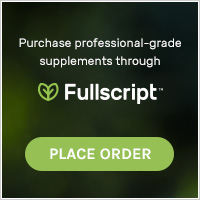 WELLEVATE
Set up an account with my dispensary through
wellevate
and receive
20% off
!
Supplements are shipped directly to you. Does not include Nutramedix products.
Click the word wellevate above to set up your account today!
Xymogen/Wellscript
CEDARCIDE
Click the CedarCide icon above to order TickShield, an organic tick repellent.


---
​Links to Dr. Chesney's Other Favorite Resources/Products
The Gupta Program
This is an online neuroplasticity and limbic retraining program. It combines a specific technique to It can be used in many conditions such as tick-borne disease, mold toxicity, multiple chemical sensitivity, fibromyalgia, mast cell activation system, chronic pain, chronic fatigue syndrome, POTS. A study published in the
Journal of Clinical Medicine
showed that after 8 weeks of the Gupta program, participants diagnosed with fibromyalgia showed a 37% reduction in Fibro (FIQ) scores, 47% increased perceived health (EQ-VAS), 46% reduction in pain catastrophizing, 45% reduction in anxiety, and 41% reduction in depression.
To learn more or to check out a free trial, click here:
The Gupta Program
​
More to come...