Items Available at
dralexischesney.square.site
:
- Signed copy of
Preventing Lyme
shipped to you
​-Tick Preparedness Kit shipped to you
​- MP4 recording of
Preventing Lyme
Book Launch Webinar on 4/11/20

​
FULLSCRIPT
Click the
Fullscript
icon below to set up an account and place an order with my dispensary through
Fullscript.
Fullscript
carries physician-grade, third party tested high quality nutraceuticals. Supplements are shipped directly to you! And all active clients receive a 20% discount!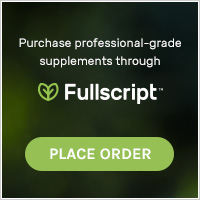 Xymogen/Wellscript
CEDARCIDE
Click the CedarCide icon above to order TickShield, an organic tick repellent.


---
​Links to Dr. Chesney's Other Favorite Resources/Products
The Gupta Program
This is an online neuroplasticity and limbic retraining program. It combines a specific technique to It can be used in many conditions such as tick-borne disease, mold toxicity, multiple chemical sensitivity, fibromyalgia, mast cell activation system, chronic pain, chronic fatigue syndrome, POTS. A study published in the
Journal of Clinical Medicine
showed that after 8 weeks of the Gupta program, participants diagnosed with fibromyalgia showed a 37% reduction in Fibro (FIQ) scores, 47% increased perceived health (EQ-VAS), 46% reduction in pain catastrophizing, 45% reduction in anxiety, and 41% reduction in depression.
To learn more or to check out a free trial, click here:
The Gupta Program
​
More to come...